What is the difference between phishing and whaling?
What is the difference between phishing and whaling?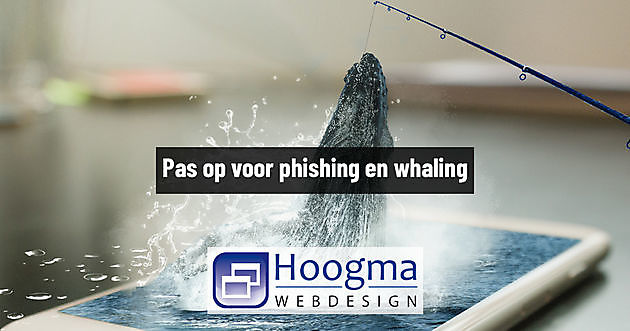 Written by:
Leo Hoogma, 20 March 2023
We often blog to warn you about the practices of phishers, and we often also mention the new techniques that have been invented and are being used en masse to extort money or data from you as an internet user. We"re adding a new term this week: whaling. You"ve probably come across it in your inbox: a message from the "big boss" himself.

What is whaling?
Whaling is a form of phishing, where people don"t go for the "little fish" but for the "whale" of the company. Loosely translated, this means not the employee, but the director, or CEO, of a company. You have probably already received an email from the so-called "owner" of a company, who asks you to fill in certain details, transfer money, or click on something.

Red flag: the language
Now we know that most companies in our country will mail in the language of our country, for example Dutch. If the company is internationally oriented, English may be the working language, fortunately the English of "whalers" is often so poor that you soon discover that the writing does not come from your manager, but from someone who, through fraud and mala fide practices, has trying to get income.

That can be a first red flag that lets you know something isn"t right.

Flag 2: Mail from yourself??
A second, huge red flag is of course if you are the entrepreneur behind your company. Internet criminals have then found your name as manager of the company and then send emails to employees (addresses) of that company on behalf of the CEO: so you! As a result, you may be surprised to receive mail that seems to come from you, while you did not send that mail. Here too, the procedure is the same: by means of a nice story they try to get you "on the line", and to steal your bank details or data, or to have ransomware or malware downloaded.
What to do about receiving whaling and phishing emails?
Unfortunately, there is no one simple solution to never get phinshing or whaling emails again. Once your email address is on lists used by internet crooks, scammers will continue to send these types of messages. Fortunately, there is a way to no longer have to encounter these types of emails: a spam filter from Hoogma Webdesign.

With an effective spam filter from Hoogma Webdesign you can continue working
No more Nigerian kings begging for money, and therefore no more fraudulent ones emails that supposedly come from your manager (or yourself). With a spam filter from Hoogma Webdesign, spam emails are filtered out even before they arrive on the server. That saves you a lot of clicks on "junk", and gives you more time to do what really makes you happy, for example working undisturbed! Are you interested in an effective spam filter, or are you looking for a neat website that you can easily maintain yourself? We offer you HWCMS, with your own domain name, moving an existing website is also possible. Inquire about the possibilities without obligation via 0597-855758 or mail to info@hoogmawebdesign.com.


Would you like to read more blog posts? Go to the page Blog.