Keep track of what visitors do on your website?
Keep track of what visitors do on your website?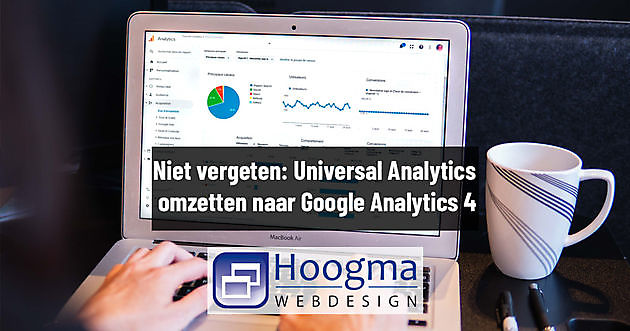 Written by:
Leo Hoogma, 24 November 2022
Do you like to analyze the traffic of your website? For example, do you want to know how old your visitors are, where they come from, or on what device they visit your website? Then there is a good chance that you are familiar with Analytics from Google, and already use it to find out more about the traffic on your website.
An important point of attention here is that Universal Analytics will soon be converted to GA4, here you can read what you need to do to continue to analyze your website.

Monitoring and reading the visitor data of your website can provide valuable information. By using Google's free software Universal Analytics (UA) you get to know the visitors of your website better and you can ensure that what you offer online is even better suited to your target group. adapt writing style to age, do older visitors mainly come, then addressing you may be appropriate, do younger visitors mainly come? Then you can tutor. The location of your visitors and other demographic data can also tell you a lot about the type of visitor that comes to your website.

Who visits your website?
This also works the other way around: If you see that buyers of your services or products hardly ever visit your website, it might be smart to take a closer look at your writing style and the range of information on your website. What is your target audience looking for? Take this into account when writing your info texts and (news) articles, such as blogs. Also think visually, a picture often says more than 1000 words. There are various websites where you can find royalty-free photos, but a beautiful own image is often even better.

We at Hoogma Webdesign are happy to help you design your website target group. We are also happy to set up your social media channels together with you or for you. If you want to know more about this, don't hesitate to contact with us.
Note: Universal Analytics (UA) becomes Google Analytics 4
From July 1, 2023, Universal Analytics will no longer process new hits. If you are still using this, make sure you create a new Google Analytics 4 property in good time. The sooner you do this, the more data you`ll already collect in GA4.

What should I do?
The most important thing is that you create a GA4 property and a data stream. Complicated? Not too bad, according to Google, which defines this as `little effort`. Here you will see all the necessary steps you need to follow when transferring your Analytics property .

Do you want to know more or do you need help transferring your Analytics? Call Hoogma Webdesign without obligation at 0597-855758 or mail to info@hoogmawebdesign.com. We are happy to help you find an answer to all your internet and website related questions.
Would you like to read more blog posts? Go to the page Blog.