No more waiting for business mail to arrive via Gmail
No more waiting for business mail to arrive via Gmail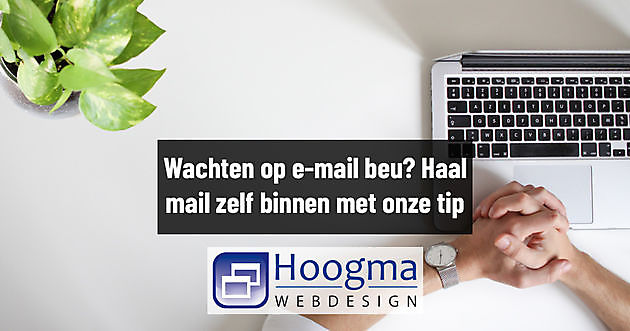 Written by:
Leo Hoogma, 16 December 2022
You can retrieve e-mails that are on the server yourself via your Gmailbox
Do you use Gmail to receive and send your business e-mail messages? That's handy. This way you have all your mail in one place and you can choose from which email address you want to send the message. But you may have noticed this little irritation, that it sometimes takes a very long time before you receive an email that you know has been sent to you. This may have to do with Google's policy, which wants to save data traffic for the free version, but that aside. With our tip you can easily check whether e-mail messages are on the server and manually download them to your Gmailbox.

Gmail uses a self-learning system for this. The more e-mail you receive on your business e-mail, the more often your Gmail account will check whether there is new e-mail. But if you don't use your business email every day, you may be waiting in vain for an email to appear in your inbox. Next time try this fairly simple trick that we describe below, or watch the video.
Where's my email well?
You are waiting for a message that you know has been sent. For example, an important assignment from a customer, or a verification code that you need to continue with your work. But nothing appears in your inbox yet. Then follow these steps.

On desktop or PC:
Mail.google.com shows your inbox. There are no new messages. At the top of the page is a `refresh` icon, which is an arrow that forms a circle.
If you click on this, the inbox will be reloaded and e-mails that have 'stuck` will still appear on your screen.

If this doesn't work, you can import emails manually.
To do this, go to the gear, which is the icon for 'settings`, at the top right of the page. Then click on `View all settings`.
Now go to the `Accounts and import` tab, and choose which account you want to check for new e-mail messages. You can also immediately see when the last time was checked for new messages.
Click on `Check for e-mail messages now`. You will see it immediately when new mail is received.

On mobile or tablet:
Go to your inbox via the Gmail app. Tap, hold, and drag down. Hold to check for new email messages. The inbox will now be reloaded.

In most cases, the message has already been received by the Hoogma Webdesign server. The delay is really in the synchronization by Gmail. In this case you can also log in to your mailbox of HW Mail. Don't know your login details? Please contact us.
Hoogma Web design, that is neat websites with good service
Do you have any questions about this, or are there other things you would like to know? Such as how to maintain your own website, at an affordable rate and with award-winning support service? Call Hoogma Webdesign without obligation via 0597-855758 or mail to info@hoogmawebdesign.com. We look forward to hearing from you.
Would you like to read more blog posts? Go to the page Blog.