Phone: your loved on3e in a panic! Or… is it an AI-voiced scammer?
Phone: your loved on3e in a panic! Or… is it an AI-voiced scammer?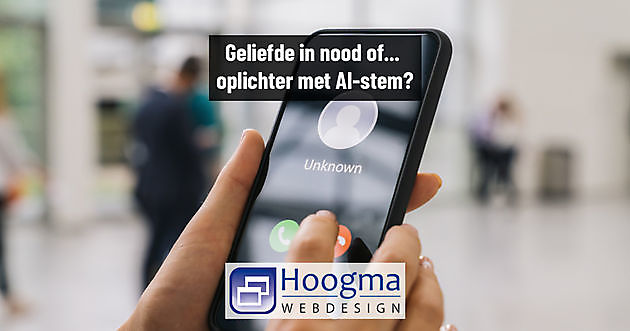 Written by:
Leo Hoogma, 17 August 2023
Scam. We`ve written about it many times before. For example, most people know the whatsapp messages from your "child" by now. You will receive a message saying "Hi Mum/Dad, I have a new number." You chat about things and then the monkey comes out of your sleeve: the "child" needs money. Fortunately, most of us know that these are scammers. Fortunately, the identity of the WhatsApp is easy to verify by calling the number of your real child, if you have children at all.

But... there is a new form of scam that goes a lot further, and is advancing faster than (cyber) police can keep up with: voice cloning. This manifests itself, among other things, in receiving a phone call, where you seem to get your child on the phone in a panic. There has been a terrible accident, a friend has died and payment must be made immediately! If you can please help.

This is a new very sneaky form of scam, because you will be cheated in front of you! You don't have your child on the phone, but a scammer who uses voice distortion with AI. Because the person on the phone sounds like your child, you`ll tend to act on your first emotion: the prompting to help your child.

It's easy for the scammer behind these calls to be creative. For example, they can also call you as your employer and instruct you to transfer amounts from the company account. With voice cloning there are many scams.
What exactly is AI?
AI stands for artificial intelligence, or artificial intelligence. Literally this means: the technique of humanizing robots or computers. For example, there is the possibility to communicate with a robot, whereby the robot shows human traits. Although the computer is man-made, it can be very frightening when the robot "itself" seems to come up with emotions, decisions, or manipulation. The possibilities are expanding and boundaries are being explored - and crossed.

How do scammers get the unique voice for AI scams?
AI voices allow anyone with basic computer skills to have a full conversation using someone else's voice. RTV Noord presenter Eric Bats was shocked when he was called by "himself". And you don't even have to be on the radio often to share your voice, a short telephone conversation with you, on behalf of a fictional society, gives criminals enough input to copy your voice. Or, for example, through a video of you on social media.

Should we be afraid of AI?
As with many things, it is wise to keep using your common sense. One of the reasons that criminals play on your feelings is because you tend to react more primitively from an emotional point of view. But all the scammers care about is money. So always keep asking yourself: is this real, and is it a real scenario? In the Netherlands, it is usually not necessary to pay immediately if an accident is caused.
It is also wise, for example, to agree on a code word with your children, or to provide another way of identification together, "just in case" .

It is not necessary to become completely anti-AI, it is much too useful an invention for that. It already offers numerous positive developments, for example in healthcare. The further the technology is developed, the better AI becomes. But since, as with all research, some of the outcomes remain unpredictable, it is wise to always remain alert and to continue to use your common sense.
Would you like to read more blog posts? Go to the page Blog.